How To Buy An RV Or Motorhome
Money Saving Tips From A Professional Inspector
All too often I see people make mistakes when buying an RV that could have been easily prevented. There are many things you should do and toss around in your mind before you commit to buying an RV.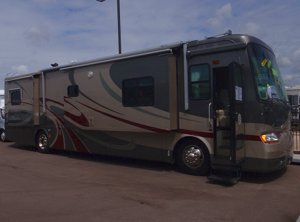 Learn how to buy an RV by making yourself a prepared and knowledgeable customer.
I have recently been working with an RV dealership here out of San Diego and it gives me the opportunity to see these mistakes first hand. Almost all of them can be traced back to people making a commitment too quickly.
Obviously, buying an RV is a major purchase for most people, and there are a lot of things you should consider before you commit to it. I hope that after you read this section you will be prepared to buy a fully functional RV that you can truly enjoy.
Things To Do Before You Buy An RV
The first thing to consider when learning how to buy an RV is that there are a lot of RVs out there, so finding the perfect one for you is important and sometimes a bit challenging. There are many factors you need to consider before you buy, many of which you would probably not think of yourself. We'll cover some below, but first let's start with a given and rather obvious task--research. It may be obvious, but it is so important it bears stating nonetheless.
First and Foremost - Research!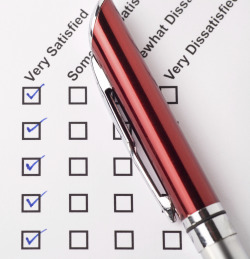 Doing your research is key to getting long-term satisfaction from your RV purchase.
Doing research on value after you've bought can be rather depressing. It always seems you will find a better deal after you have already paid for yours. Put the work in ahead of time, not only comparing price but also exploring different options in the type of RV, brand, and the various combinations of features you have to choose from (more on these features below).
You can look at hundreds of RVs and every one of them can be different. If you are persistent and don't settle for the first RV that looks good, you will most likely find an RV that can suit you better than the one you looked at before.
What To Check For While Looking At RVs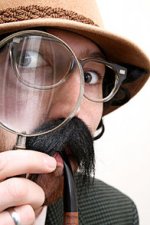 Finding the right RV can be a search. How good of a detective can you be in finding yours?
It is important to think through how exactly you will be using your RV, not just now but 10 years down the line. RVs are made for many purposes, so you need to make sure the RV you buy fits your own personal needs.
Whether you plan on going to the desert or river for the weekend, driving across the country, or living in your RV full time, there will be specific things you will need to look for to ensure you get the right one.
For Instance, Will You Have Hook-Ups Where You Plan To Go?
Many people new to the RV lifestyle may overlook the role that hook-ups play in determining what they need in their vehicle. The necessity of having certain items eqipped in your RV, such as a generator or large water holding tank, will vary according to where you plan to take it.
If your primary use for the RV you plan to buy is to go to the mountains, beaches, desert, or something similar, you most likely won't have hook-ups in these places to power your vehicle or provide bathing water. In these types of situations, you will have to rely on the capabilities built into your RV, since the opportunity to hook-up won't be there. Of course, you probably won't know everywhere you plan to go with your RV at the time that you buy it, but taking into consideration the types of places you may go will help you find the right RV.
Sound Like You?
If your style of RVing involves traveling to places where hook-ups aren't readily available, here are some things to definitely consider when buying:
Generator - If you don't have an alternative power source you will definitely need a generator to supply power to your RV.
Fresh water capacity - With no hoses around you will need to bring all your fresh water with you. Your wife won't be very happy if she can't shower because your RV can't hold enough water to support a long outing, so make sure to be prepared on this one.
Towing capabilities - Make sure your RV can tow a trailer full of all your desert toys, if riding around is a priority of yours. Smaller RVs are not capable of towing a lot of weight.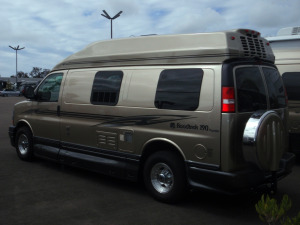 If you're looking for an RV that can tow some toys, you'll need to make sure you go a little bigger than this Class B Standard.
Refrigerator size - Don't overlook the fact that you might have to store a week's worth of food in your refrigerator. If you think your refrigerator might not be big enough, it probably isn't.
Storage - Inside and out, the more the better. Again, don't underestimate how much stuff you will bring with you wherever you go.
Expansion options - If you know you might need to add something to your RV, such as a generator or a larger water tank, make sure your RV has the room to expand with these features. It is ok to buy an RV without everything you need, but it is a huge mistake to buy an RV that doesn't have the expansion capabilities to handle all your future needs.
More Things To Think About When Buying An RV
RV size (avoiding going too big) - Mistakes in the sizes of RVs that people get happens all the time. Now I can't give advice on what size RV to buy, because each particular case varies, but buying a 40 ft Park model trailer to use only on the weekends could be a bad idea.
Remember, most RV Parks don't allow RVs over 35 ft in length. I have also seen people buy an RV that didn't fit in their driveway where they had planned to store it. Oops!
RV size (avoiding going too small) - I've seen families go with RVs that end up being too small for their needs. For instance, one family with three kids once bought a 22 ft Winnebago motorhome (also known as a Minnie Winnie) and thought they would use the dinette and sofa for their kids to sleep on. But what they didn't realize is that a 22 ft RV has very little storage space, so everything you bring ends up on the couch and dinette seats.
Now what are you going to do with everything when it's time to make out the beds for the kids to sleep on? And what if the kids want to bring friends? Not to mention that the smaller the RV, the smaller the holding tanks. Oh no! Now what? You can avoid this problem if you think things through or get a little advice.
RV park regulations - If you plan on living in an RV park you need to know that many RV parks have rules and regulations before you decide to live in one. It is very important for you to make sure that none of these regulations prohibit you from staying there before you commit to buy your RV with that purpose in mind.
For example, the RV dealership I work with delivered a trailer to a guy who planned on living in it. He had a reservation in a local RV park already in place and he thought he was good to go. He showed up with the trailer and it wasn't until then that he found out his two dogs weren't allowed in the park. Unfortunately, no other parks around allowed dogs either and his trailer has been in storage now for months.
Bring Someone With You
Even if you plan on buying an RV for your personal use only, you may want to consider bringing someone with you when scouting your options. It can be a good friend or, for many people, their spouse.
Bringing a good friend or spouse with you when shopping can help keep you pointed in the right direction and consider things you might miss. It's never bad to bring a compass!
Why is having a partner in purchasing so important? Well, as I've laid out, RVs have many features that you will need to consider before you make a decision on which one you will get. You are buying a vehicle that will at some point provide for all your living needs. As much as you would like to think that you can check for everything you will use, there is bound to be something that slips your attention, and having another pair of eyes there may prove extremely valuable.
I've seen spouses during their orientation and walk-through point out that the shower is too small, the kitchen doesn't have enough storage space, and the vehicle only has one house battery to support the family. Unfortunately for these particular people, they didn't notice these things until after they bought their RV. Don't let this be you. Preparation is key.
Hopefully after your own RV purchase you can enjoy your orientation and walk-through because you were prepared and had a second opinion before you committed and bought your RV.
---
Enjoy this page? Please help us pay it forward to others who would find it valuable by Liking, Sharing, Tweeting, Stumbling, and/or Voting below.
Have a question about this topic?
Have a question about your RV? Chat with an expert one-on-one now.*
*Chat provided by JustAnswer.com, a third party not affiliated with MSRVR
Do You Have Thoughts On How To Buy An RV?
Are you getting ready to make an RV purchase yourself? Are you in the exploratory phases and want some second opinions? Or maybe you've been through the process before and can lend your insight? Share your thoughts, concerns, and experiences with us about buying an RV below!

Both Robbie and our visitors will be able to comment on your thoughts and answer your questions.
Consider Donating?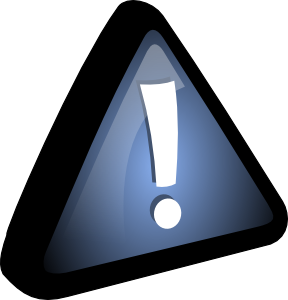 All questions will be answered in the order I receive them and all are FREE regardless. If you would like to have your question moved to the front of the list or you have received an answer on this site that really saved you some money, please consider supporting the website by making any size donation you'd like. While this site is FREE to you it does cost us time and money to operate. Thanks, and keep the questions coming.

-Robbie and the Website Crew
Read More Thoughts About How To Buy An RV
Click on the links below to read other questions and answers regarding buying an RV. They were all contributed by visitors to this page, just like yourself.
Professional Inspections Before Buying
Question: I'm in the preparation phase of buying a class B van to live in full-time. One of my concerns is, how do I know I can trust the professional …
Bought A 1959 RV That Has No Title
Question I bought an RV in California. Then drove it to my farm in Indiana. It came with a license plate so never really worried about title. After a …