Trusted San Diego RV Repair For Over 32 Years!
While this site is made to help you repair and maintenance your RVs on your own in instances when you can, sometimes you'll encounter situations where you either need the trained eyes of an RV specialist, or it's even more time efficient and cost effective to do so.
When these situations arise, you want experienced help from people you can trust.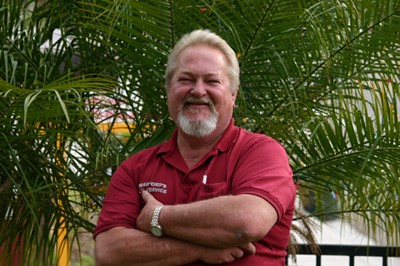 I'm Robbie Warford, and at Warford's RV in San Diego we can take care of all your RV repair and service needs. Get in touch using the form below.
If this is your first time at this site, allow me to introduce myself. My name is Robbie Warford, and I've been serving the San Diego RV industry for over 32 years through my company, Warford's Mobile RV Service.
I specialize in pre-purchase inspections and repairs and/or installation on appliances, electrical, and plumbing including electrical invertors and convertors, battery systems, solar systems and much more. I do custom upgrades or installs on anything from slide-in campers to custom luxury motorhomes. I also do authorized warranty for Dometic, Norcold Atwood, Suburban, A&E, HWH, Thetford, and Parallax.
If you're looking for RV repair in or around the San Diego area, you can get in touch with me directly via the form below, or by calling the phone number on the right hand side of this screen.
Why Use A Mobile RV Service?
Calling on a mobile RV tech can be both the time efficient and cost effective route to take at all levels of your RV experience, whether you are getting ready to buy, have recently bought your vehicle, or are a savvy RVer with years of experience. But at what times is it right for you to use a mobile RV service? The two articles below shed light on this question.
| | |
| --- | --- |
| "Regardless of if you're looking for a trailer, a mid-size motor home, or a full-size diesel pusher, having it inspected is one the most important parts of your pre-purchase decision. As an RV tech, I know the systems and I'll be able to make sure everything is functioning correctly so that you won't be hit with any surprises or costly repairs that could have been prevented right off the bat...." (Read the full article) | "Whether you have recently purchased an RV or you are a long-time RV owner well versed in the RV lifestyle, there will just about always be a time you will need an experienced RV professional to resolve your RV problems. Knowing when this time is is the key to saving money in the long run for your RV. Let's break it down...." (Read the full article) |
If you need to consult a mobile RV technician, just fill out the form below to email me directly. I'd be happy to answer any questions you have or work on your RV/motorhome or trailer specifically if you are in or around the San Diego area.
Note: You can also get straight to this page using the url www.WarfordsRV.com.
Warford's RV opeates out of Lakeside, CA, close to El Cajon, La Mesa, Santee, Grossmont, Poway, and Spring Valley, to name a few.
---
Enjoy this page? Please help us pay it forward to others who would find it valuable by Liking, Sharing, Tweeting, Stumbling, and/or Voting below.
Have a question about this topic?
Have a question about your RV? Chat with an expert one-on-one now.*
*Chat provided by JustAnswer.com, a third party not affiliated with MSRVR